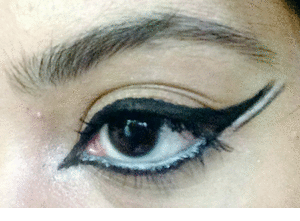 I was playing around with my new Lakme Eyeconic Kajal in White, and decided I would do a look with it.
I had a business card nearby, so I decided to draw a long straight line from my lower lash line towards the end of my eyebrows using the card as a scale. I drew a triangle joining the line I just drew with my upper lash line.
For the inner corner, I used the same method of drawing a smaller triangle, this time without the business card. I added another dash of thin black liner slightly below the first wing. To emphasize the double wing I ran my white liner in between the two lines, and waterline and finished it all off with two coats of Maybelline Collosal mascara.